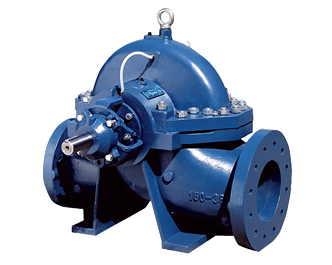 SPP Pumps
Split case pumps containing one or two stages with the suction and discharge flanges casted in the bottom half casing, obtain better access and easy disassembly of the rotating parts, avoiding having to disconnect the pipework.
The impellers have been designed with the highest technology to guarantee the best posible efficiency within the capacity range of each pump, Depending on the pump model, it could incorporate two impellers in a "back to back" arrangement, or just a double suction one, as the axial pressure rate always remains compensated. Hydraulic seal on the shaft is obtained either by means of shaft sleeve with packing, or standarized mechanical seal. Horizontal execution as standard, vertical disposal on request.
Application
The broad pump range shown, with discharges up to 3000 l/s and heads up to 190 metres, allows a wide diversity of use, including irrigation, circulation of drinkable water, water purifier stations, heating and air conditioning installations, fire fighting pump sets, circulation of liquids at industrial plants, mines, construction, etc. Suitable to handle clean or slightly polluted liquids, with temperatures up to 90ºC.
Specification
Selection Chart