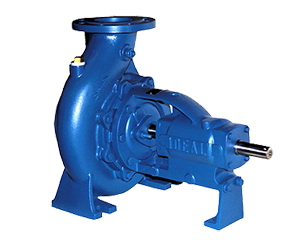 SPP Pumps
EN 733/DIN 24255/NF E-44111 standards define the hydraulic performances and main dimensions of the end suction centrifugal pumps rating 10 bar with bearing bracket. We have designed our range of horizontal centrifugal pumps in accordance with these standards.
This standard philosophy leads to simplicity in maintenance, as well as manufacture, as fewer components are  required to service the entire range, also making easier the spare parts service. Standard construction, either packing or mechanical seal, is suitable for pumping liquids with temperatures up to 100ºC. When special mechanical seal is assembled, temperature of pumped liquid can reach 160º C. The volute, including suction and discharge flanges, is independently foot mounted, allowing for inspection on rotating and internal parts with both flanges connected. The bearing frame, stuffing box, casing cover and impeller can be removed as an integral unit when using a spacer type coupling.
Application
Suitable pumps for handling and pumping liquids
in mines, irrigation, building, industries, airconditioning,
fire-fighting sets, etc.
Specification
Selection Chart